Famous Residents Burlington
Famous Residents Burlington, ON
Famous residents listed on Burlington's famous residents page are considered famous residents born in the city or town of Burlington. Even though that person was brought up in another city or town it's not fair to Burlington where the famous person was actually born to add them to another city or town. We get lots of requests for famous people considered to be famous in one city or town but were born in another city or town. Virtual Walk considers a famous resident, a person born in the city or town we list them in. Virtual Walk doesn't intentionally insult a famous resident in Burlington. So if we've missed someone important to Burlington we need to honour that resident by listing them in Burlington. Virtual Walk has listed the famous residents we could find that were actually born in Burlington. I'm sure there are some famous residents in Burlington we've missed. If you know a famous resident born in Burlington not listed on Burlington's Famous Residents page, contact us we'll be honoured to research the information and add the famous resident.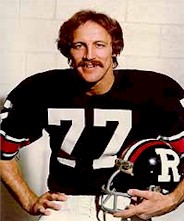 Tony Gabriel
Date of birth: December 11, 1948 Tony Gabriel is a former professional Canadian football pass receiver who played in the Canadian Football League from 1971 to 1981.
Born in Burlington, he attended Burlington Central High School from 1962 to 1967. While at Burlington Central High School, Tony played both football and basketball. He was a member of the Junior Basketball Championship team from 1965. He was honoured in 1967, with the M.M. Robinson Gold Medal for top student athlete at Burlington Central High School. Two memories that stick out in his mind from being a Trojan were, firstly, not making the football team in his grade ten year; and in his grade 13 year, scoring 48 points in a senior basketball game to completely outscore the entire Nelson team.
Gabriel was active throughout high school playing junior football for the Burlington Braves under the direction of Bernie Custis. From there he attended Syracuse University from 1968-1971 where he played split-end for coach Ben Schwartzwalder. Following his time in college he began a legendary professional football career in the Canadian Football League with the Hamilton Tiger-Cats from 1971–1974, and with the Ottawa Rough Riders from 1975–1981.
Gabriel's first Canadian Football League year with the Hamilton Tiger-Cats in 1971, was rather mediocre, with only 20 catches for 265 yards and one touchdown. With rookie quarterback Chuck Ealey in 1972 Gabriel caught 49 passes for 733 yards and 3 scores during the season and helped the team win the Grey Cup over the Saskatchewan Roughriders. After the 1974 season he joined the Ottawa Roughriders. With Ottawa he had five seasons of over 1000 yards receiving, including four consecutive seasons from 1975 to 1978, with the other in 1981. In 1976 and 1977 Gabriel led the Canadian Football League in receiving yards with 1320 and 1362 respectively. There would not be another Canadian receiver with this accomplishment until the Stampeders' Dave Sapunjis in 1993.
The 1976 Grey Cup game is perhaps what fans most remember of Gabriel, with his late fourth quarter touchdown catch from Tom Clements that won the game over the Saskatchewan Roughriders. In 1978 he was awarded the Schenley Award for the Most Valuable Player in the Canadian Football League, becoming the first Canadian to win the prize in almost 10 years. No Canadian has won the award since. In his career Gabriel was chosen ten consecutive times as the EFC's all-star tight end from 1972 to 1981. As well he was named to the league's all star team as the tight end in 1972 and from 1974 to 1980.
Canadian Football League All-Star: 1972-1980 Although he was drafted by Hamilton Tony would make his mark in the Nation's Capital playing for the Rough Riders. Tony said that his defining catch was the winning Touch Down catch in the 1976 Grey Cup that would secure the victory over Saskatchewan! He would get many awards as top Canadian, but in 1978, he won the Schenley Award to the top player of the year. He has been the last Canadian to win this award, and humbly credits his great quarterbacks with some of the accolades. Other players have since earned top honours include Mike Pringle, Danny McManus and Doug Flutie! His most recent achievement was his #18 on the Canadian Football League's all-time player list.
The 1981 Grey Cup game saw the Rough Riders play the Edmonton Eskimos. Gabriel entered the game with a partial ligament tear in his left knee. Late in the game following a questionable penalty, Gabriel left the game when his knee finally gave out, never to play professionally again. At the time, Gabriel stood at third among the all-time receivers behind only Tom Scott and Tommy Joe Coffey. This also made him first among Canadian receivers. In his 11 seasons, he caught 614 passes for 9832 yards and 69 touchdowns.
He was inducted into the Canadian Football Hall of Fame in August 1984 and in November, 2006, was voted one of the CFL's Top 50 players (#18) of the league's modern era by Canadian sports network The Sports Network/TSN.
Sophomore Year-Syracuse University: Devil's Own Trophy: Top Student-Athlete
Junior Year-Syracuse University: Orange Key Trophy: Outstanding Student-athlete; All-East Honours
Senior Year-Syracuse University: Bill Horr Trophy: MVP of the Year-Syracuse U.
Final Game: set a record for a 4 Touch Down game vs. Miami
1972-Won Grey Cup with Hamilton Tiger Cats
1974, 76, 77, 78 – Voted Schenley for Most Outstanding Canadian in the Grey Cup
1976-Won Grey Cup with Ottawa Rough Riders catching the winning touchdown pass in the last minute of play.
1978-Selected as Schenley Award winner for Most Outstanding Player in Canadian Football League
1972-Selected All-East All-Star team for Canadian Football League
1972, 1974-1980 (inclusive)-Selected All-Canadian All-Star team for Canadian Football League
1985-Inducted into "The Canadian Football Hall of Fame"
1985-Inducted into "Canada's Sports Hall of Fame"
Awards
Schenley Nominations
Outstanding Player 1977, 78 (won), 81
Outstanding Canadian 1973, 74 (won) 1976 (won), 77 (won), 78 (won), 79, 81
Jeff Russel Trophy for Outstanding Player in the Eastern Division
1978
Lew Hayman Trophy for Outstanding Canadian Player in the Eastern Division
1976, 1977, 1978, 1981
All-Star Selections-Eastern Division
72-74 Hamilton
75-81 Ottawa
Konrad Ng
Brother-in-law of Barack Obama, born 1974. His parents are from Kudat and Sandakan, two small towns in Sabah, Malaysia. Ng and his younger, Perry, were born and raised in Burlington, Ontario. Perry Ng works for the University of Ottawa. He married Maya Soetoro-Ng at the end of 2003 in Hawaii. They have one daughter, Suhaila. Konrad Ng is now a US citizen He is an assistant professor at the University of Hawaii's Academy of Creative Media. This is a picture of President Obama's sister and niece with husband and Father Konard Ng.
Sylvia McNicoll
Born 1954 is a Canadian children's writer who lives in Burlington, Ontario. McNicoll was born in Ajax, Ontario and grew up in Montreal, Quebec. In addition to writing, she works as features editor for Today's Parent Toronto. Sylvia McNicoll has three children. Jennifer, Craig and Robin. Sylvia has two grandsons, Hunter and William and one granddaughter Jadzia.
Sylvia McNicoll won the Silver Birch Award for "Bringing Up Beauty".
Finger Eleven (also known as F11 and Finger 11)
A Canadian alternative rock band formed in 1989. They originated in Burlington, Ontario, as Rainbow Butt Monkeys. They have currently released five studio albums, with their album The Greyest of Blue Skies bringing them into the mainstream. The 2003 self-titled album achieved Gold status in the US and Platinum in Canada, largely due to the success of the single "One Thing", which marked the band's first placing on the US Hot 100 Chart at number 16. Their 2007 album Them vs. You vs. Me launched the single "Paralyzer", which went on to top numerous charts including the Canadian Hot 100 and both US rock charts, as well as reaching #6 on the US Hot 100 and #12 on the Australian Singles Chart. They won the Juno Award for Rock Album of the Year in 2008.
Finger Eleven first formed in their high school, but then achieved a devoted Canadian following throughout their time as a band. Formed in high school one of their first shows was at a school Xmas concert in 1990. They were originally The Rainbow Butt Monkeys. They released their first full album Letters from Chutney (1995) with money won from a rock band search contest on 97.7 CHTZ (Hits) HTZ FM's "Southern Ontario's Best Rock".
The group found a new management team in Coalition Entertainment (Rob Lanni & Eric Lawrence with Sarah Parham) in 1996. Once they had realized their music changed and wanted to be taken more seriously, "The Rainbow Butt Monkeys" became "Finger Eleven". The name Finger Eleven comes from an earlier version of the song "Stephanie's Song" from the album Tip. Scott Anderson explains: "when everything is pushing you in one direction and your instinct drives you in another that's finger eleven, I couldn't get it out of my head."
Their breakthrough album, Tip, was released on Mercury Records in Canada in 1997 and re-released by Windup Records in the United States in 1998. This also marked a change in the band's sound. Tip was produced by Arnold Lanni (Our Lady Peace). By then, they managed to tour alongside bands such as Creed and Fuel.
Following the release of Tip, drummer Rob Gommerman left the band and was replaced by Rich Beddoe whom James Black had met coincidentally at an Alice in Chains concert several years earlier in Toronto.
In 2000, Finger Eleven released The Greyest of Blue Skies, again produced by Arnold Lanni. They had success in their home country with this album going gold (50,000 units sold).
Their 2003 release, self-titled album Finger Eleven was produced by Johnny K. This album includes the sleeper hit single "One Thing" which pushed the band into the mainstream. The song was a hit on rock, pop, and adult radio charts; the success of the single earned the band its first US Gold Album (500,000 copies) and Canadian Platinum (100,000 copies). "One Thing" reached #16 in the U.S., and had exposure on TV series such as Scrubs, Smallville and Third Watch. In 2007, the song had also been sung with Amy Lee of Evanescence.
The band toured throughout Europe, Australia and North America from 2003 to 2005. They have also won a Much Music Video Award.
In 2005 Scott Anderson appeared on Neverending White Light's first album in song I Hope Your Heart Runs Empty.
Finger Eleven's most recent album titled Them vs. You vs. Me was released on March 6, 2007, again produced by Johnny K. The first single was "Paralyzer" which gradually became the band's most successful single to date, becoming their first career Top Ten hit on the U.S. Hot 100 in November 2007, as well as reaching #1 in Canada, and both U.S. rock charts. The album also features the singles "Falling On", "I'll Keep Your Memory Vague" and "Talking to the Walls".
The band played "Paralyzer" on The Tonight Show with Jay Leno on March 14, 2007 and again almost exactly ten months later on January 9, 2008, in a testament to the longevity of the single's success. They also played at the 2007 NHL awards show on June 14, 2007.
On August 24, 2007, they performed a concert on the retired battleship USS New Jersey in Camden, NJ for the "Band on a Battleship" promotional concert sponsored by Philadelphia radio station WMMR.
On December 4, 2007 the DVD Us-vs-Then-vs-Now was released, with footage spanning their whole career. it also came with a bonus CD of Bsides, rarities and demos.
Them vs. You vs. Me was certified Gold in the U.S. in March 2008. The band has toured extensively since the release of Them vs. You vs. Me, playing mostly new material. Additionally, they have added a medley to the end of their shows that consists of Paralyzer, Franz Ferdinand's Take Me Out, Led Zeppelin's Trampled Under Foot and Pink Floyd's Another Brick in the Wall.
They performed "Paralyzer" at the Miss USA 2008 pageant in Las Vegas, Nevada on April 11, 2008.
Them vs. You vs. Me won the 2008 Juno Award for Rock Album of the Year. The band performed live with the Calgary Youth Orchestra at the Juno Awards on April 6, 2008 in Calgary, Alberta. The performance was broadcast on national television.
They have also performed Talking to the Walls, One Thing & Paralyzer on the end of the Steve Wilkos Show Tour in NY.
The band was planning a European tour in the summer, including Download Festival 2008 in England, Rock Am Ring, and Rock Im Park in Germany. However, these were cancelled due to Scott spraining his neck.
In December 2008 the band toured Europe supporting Kid Rock including one date at London Hammersmith Apollo.
Kelly Richardson
Born August 2, 1972 in Burlington, Ontario, an artist whose practice mainly focuses on video and photography. From 1994–1997, she studied at the Ontario College of Art & Design in Toronto, Canada where she continued to reside practicing and exhibiting both nationally and internationally at various venues including Hallwalls, Mercer Union, Art Gallery of Ontario and Centre Georges Pompidou. In 2002, she relocated to Halifax, Nova Scotia, Canada for her Master of Fine Arts in Media Studies at the Nova Scotia College of Art and Design University. In 2003, she moved to the United Kingdom taking up residence in the north.
Since then, she has participated in numerous artist residencies in the UK and her work has been exhibited throughout the country including the Northern Gallery for Contemporary Art, Stills Gallery, Cornerhouse and The Nunnery in London. International exhibitions include the The Cinema Effect: Illusion, Reality and the Moving Image at the Hirshhorn Museum and Sculpture Garden where she exhibited alongside artists such as Andy Warhol, Tony Oursler and Isaac Julien, Gwangju Biennale and Busan Biennale.
Her works have been acquired by the Albright-Knox Art Gallery (Buffalo, New York), Hirshhorn Museum and Sculpture Garden (Washington D.C., USA) and the Musée d'art contemporain de Montréal (Montréal, Canada). She has been long listed for the Sobey Art Award for 2008 and 2009.
Dead and Divine
A five-piece Metalcore band out of Burlington, Ontario, Canada. Their mainstream success spawned from their 2005 debut full-length release What Really Happened At Lover's Lane on Verona Records (a label created by Shane Told of Silverstein, and the band themselves).
Their initial full length record beat all expectations when in its first week alone it sold nearly 1000 copies nationwide, landing them a spot on the Canadian Billboard Top 200. This was a huge accomplishment for the group since their original formation in 2003. The band then set off on an independently booked coast to coast Canadian headlining tour that following summer, playing as many cities as they could.
A growing interest in the band's live performance has landed them spots sharing the stage with acts such as: Alexisonfire, Poison The Well, Dillinger Escape Plan, Throwdown, Cavelera Conspiracy, Silverstein, Protest The Hero, Misery Signals, Cancer Bats, August Burns Red, Hopesfall, blessthefall, Darkest Hour, The Spill Canvas, ill Scarlett, and Moneen.
In the fall of 2006, the band took time off touring to begin work on their upcoming full length. Along with locking themselves in their jam space for hours on end, they initiated the writing process, creating and fine tuning new tracks for their second album. Following their writing stint, Dead and Divine set out on several more self-booked headlining tours including a winter tour throughout Ontario during the month of January, a February-March east coast tour, and two more full Canadian tours spanning from April to August 2007. Finally taking some time off, the band spent 5 days at Drive Studios with producer Steve Rizun, completing pre-production for six songs on their upcoming full-length.
They spent most of December recording their Rise Records debut at Interlace Studios with producer Kris Krummet and have since completed all tracking for the album. The album is due out March 18th on Rise/Verona Records.
The band recently shot their music video for their single "Like Wolves", off their new record "The Fanciful" with director Ben Knechtel (Hawk Nelson, Seconds To Go, Thousand Foot Krutch).
In July 2008, it was announced that Ryan Leger would leave the band in order to be with his girlfriend and newborn daughter. The band has recently found a replacement, Kyle Anderson of Sydney. It was announced on their Facebook page.
The band recently signed with Distort Entertainment, Alexisonfire, City and Colour, Cancer Bats, Architects, The Bronx, etc.
Boys Night Out
A rock band from Burlington, Ontario
The band formed in 2001 when lead vocalist Connor Lovat-Fraser and current guitarist Jeff Davis started collaborating on songs. The work eventually led to the four-song You Are My Canvas demo, an EP influenced by fellow Burlington hardcore act Grade. Following the release of this demo, the band signed to One Day Savior Records and subsequently released the Broken Bones & Bloody Kisses EP.
Interest in the band was immediate, and a short while later they signed to New Jersey-based Ferret Records. Their debut full-length album, 2003's Make Yourself Sick, was a shock to some fans. It was much lighter and pop-punk-oriented, but with the same heavy screaming and guitars found on earlier releases. The band toured heavily in support of the record with acts such as My Chemical Romance, Catch 22, Saves the Day, and a stint on the Warped Tour circuit. Boys Night Out also was featured in the Nintendo Fusion Tour with Fall Out Boy, Motion City Soundtrack, The Starting Line, and Panic! at the Disco.
The band's next effort, 2005's Trainwreck, is a somewhat more subdued, experimental concept album based on a man's loss of sanity. Trainwreck opens with a doctor dictating his notes into a tape recorder. The album chronicles the arrest, trial, treatment and subsequent release of a man who, in a waking dream, murders his wife and then cuts both his hands off with a machine at his work so that he can not kill again. Kara Dupuy's vocals act as the deceased wife's voice heard by the patient throughout the album.
The band released their third album, Boys Night Out, on June 26, 2007. The first single from the album is "Up with Me".
In early 2006, Kara Dupuy left Boys Night Out. As seen on the live show footage of Dude, You Need to Stop Dancing, she had recently become engaged and chose to pursue a new life off the road.
In March, 2006, Andy Lewis, left his former band, The Fullblast, to join Boys Night Out on guitar.
In late 2006, Brian Southall left the band to join The Receiving End of Sirens. He was replaced with Ben Arseneau, the original drummer.
Guitarist Jeff Davis was an actor in the early 1990s, appearing in an episode of Goosebumps and 1994's The Santa Clause with Tim Allen.
The band had to cancel their eastern Canadian tour due to transportation issues in December 2007, stating that they would reschedule in early 2008. The band's last scheduled show was to be in Charlottetown, Prince Edward Island. The band has not announced a tour, performed or even given an update on the situation since the cancellation, leaving fans to speculate an unconfirmed hiatus.
The band's single "I Got Punched in the Nose for Sticking My Face in Other People's Business" was featured in the last episode of the Japanese anime series Beck: Mongolian Chop Squad.
Gym Class Heroes references the band in their song "On My Own Time (Write On!)"
Connor and Jeff are "HUGE Adam Sandler fans". They got the band name from the movie Billy Madison, and the song "I Got Punched in the Nose for Sticking My Face in Other People's Business" is a direct quote from the movie The Wedding Singer.
Sarah Harmer
Born November 12, 1970 in Burlington, Ontario is a Canadian singer-songwriter and activist.
Harmer gained her first exposure to the musician's lifestyle as a teenager, when her older sister Mary started taking her to concerts by the then-unknown Tragically Hip. At the age of 17, she was invited to join a Toronto band, The Saddletramps. For three years, she juggled The Saddletramps with her studies in philosophy and women's studies at Queen's University.
After leaving The Saddletramps, Harmer put together a band of her own with several Kingston, Ontario musicians, and settled on the name Weeping Tile. The band released its first independent cassette in 1994. Soon afterward, they signed to a major label, and the cassette was re-released in 1995 as eepee. The band quickly became a popular draw on the rock club circuit and on campus radio with their subsequent albums, but never broke through to the mainstream, and broke up in 1998 after being dropped from their label.
Also in 1998, Harmer recorded a set of pop standards as a Christmas gift for her father. After hearing it, her friends and family convinced her to release it as an album, and in 1999 she released it independently as Songs for Clem. Harmer quickly began working on another album, and in 2000, she released You Were Here.
A poppier, more laid-back effort than her work with Weeping Tile, You Were Here became Harmer's mainstream breakthrough, spawning the hits "Basement Apartment" and "Don't Get Your Back Up". The album also appeared on many critics' year-end lists, including TIME magazine, which called it the year's best debut album. It was eventually certified platinum for sales of 100,000 copies in Canada. Almost half of the album (including both of its major hits) consisted of songs she had previously recorded with Weeping Tile or The Saddletramps.
In 2004, she released All of Our Names. The album included the singles "Almost", which made the top 20 on Canadian pop charts, and "Pendulums".
Her fourth album, I'm a Mountain, was released in Canada on November 8, 2005 and in the United States in February 2006. It was nominated for the inaugural Polaris Music Prize, a jury-selected $20,000 cash prize for the Canadian album of the year.
Harmer has also appeared as a guest vocalist on albums by other Canadian artists, including Blue Rodeo, Great Big Sea, Rheostatics, Bruce Cockburn, Luther Wright and the Wrongs, Skydiggers, The Weakerthans and Great Lake Swimmers.
In February 2007, Harmer received three Juno Award nominations. I'm a Mountain was up for Best Adult Alternative Album and her DVD Escarpment Blues was up for Best Music DVD. Sarah herself was also up for Songwriter of the Year for her work on "I Am Aglow", "Oleander" and "Escarpment Blues". Also in 2007, she reunited with Weeping Tile to record a song, "Public Square", for the Rheostatics tribute album The Secret Sessions.
Harmer has admitted to having done some recording for a fifth album in October 2008 on her blog.
In 2005, Harmer co-founded PERL (Protecting Escarpment Rural Land), an organization which campaigned to protect the Niagara Escarpment from a proposed gravel development which would see some parts of wilderness near the escarpment removed. To support the organization, she and her acoustic band embarked on a tour of the escarpment, hiking the Bruce Trail and performing at theatres and community halls in towns along the way. A documentary DVD of this tour was released in 2006 as Escarpment Blues.
Harmer has performed and canvassed in support of the NDP and Marilyn Churley, her friend in the fight for the protection of the Niagara Escarpment.
Idle Sons
A Burlington, Ontario based rock band that formed in 1994 under the name Slurpymundae.
Idle Sons was a Burlington, Ontario based rock band that has earned a devoted following in Canada and beyond. The group was formed in 1994 by childhood friends Mike Eastick, Sean Kelly, Ryan Barkwell, and Bruce Nicol. Mike and Sean were on the same line on their hockey team while Bruce and Ryan were pitcher/catcher combination during baseball season. The group originally took the name Slurpymundae under which they toured extensively and released two EPs and one full length album independently.
In the year 2000, after returning home from a cross-Canada tour with fellow Burlington band, Finger Eleven, the group set to work recording a three song demo. Friends James Black and Rick Jackett of Finger Eleven were enlisted to produce the demo. At this time, the group began to feel that the name Slurpymundae did not have a future and so they made the switch to Idle Sons. Around this time the group also signed on with Coalition Entertainment manager Julian Gruhl.
Upon hearing the three-song demo, Atlantic Records A&R Rep Kevin Carvel quickly brought the group to the attention of the label. The band signed their first major label recording contract with Atlantic Records and flew to Los Angeles to record their debut album with producer Gavin Mackillop. After six months of recording, the group had completed their debut effort. It was to be called 'Hell or High Water.'
Soon after the completion of the debut Idle Sons album, Atlantic Records began a merger with an internet company. This merger led to the reorganization of many positions within the company, namely the departure of Kevin Williamson to Maverick Records. As a result of this, Idle Sons were dropped and their record was handed back to them.
Despite the disappointment, Idle Sons would carry on with an intense regimen of song writing and touring. After almost four years of waiting, the band signed a deal with EMI Canada. The band soon departed for Vancouver where they would work on their EMI debut at The Farm, the oceanfront, 14-acre (57,000 m2) studio complex run by producer GGGarth (Garth Richardson), the studio whiz whose credits include Rage Against the Machine, Trapt, Chevelle, Rise Against, Mudvayne, Kittie, L7 and many others. The sessions would last for 20 days and the album Sixteen Seasons was the result.
On May 2, 2006 EMI Canada released Idle Sons' 'Sixteen Seasons.' The record comprises three different types of songs: Four tracks ("Bleeding," "This Evening," "Long Way Home" and "Before the Fall") survived intact from the never-released Hell or High Water. Four more ("Waiting Around," "Good Life," "Better Days" – the track that long-time fans might remember as "Push" – and "Now Forever") were reworked from their original Hell or High Water form. The final four songs (the first single "Tell Me," "Getaway," "Little Bit Less" and "Maggot") are all brand new, all products of the various jams from that seemingly endless period of limbo. Two were demoed just two weeks before the recording sessions began.
In May 2006, the band toured Canada in support of 'Sixteen Seasons' with Three Days Grace, Mobile, and Theory of a Deadman.
The first single, Tell Me, cracked the Top 20 for rock radio in Canada in July 2006.
In December of 2006 Sean left the band to pursue a career in teaching at an elementary school in Hamilton called Gordon Price Elementary school. He is currently teaching Grade 6, 7 & 8 science at Westview Elementary School. His last show with the band was on December 16, 2006 in London, Ontario at the Salt Lounge.
The band has been nominated for a (CRMA) Canadian Radio Music Award and a Juno in 2007.
On March 9, 2007, the band announced it had disbanded.
Mike is now playing with a new band called "The Grave"
Bruce is now tour managing for a number of artists including the likes of Justin Nozuka, and Serena Ryder.
Ripped
An alternative rock band from Burlington, Ontario, Canada on Sextant Records/EMI Distribution. The band formed in 1994, and were originally called "Ripped Emotions".
Their first album was called Bloodshot, produced by Jamie Stewart (The Cult) and Mike Hanson of Glass Tiger. The video for the song "The Haunting" from "Bloodshot", was used in an independent feature film called "Insight of Evil" by Nigel Hartwell. The video was also on rotation on Edge TV, a music video television channel.
Ashton Price of Morph Productions produced their second album, Blow Your Mind. Dave Ogilvie who has been associated with such acts as Nine Inch Nails, Marilyn Manson, David Bowie and Skinny Puppy mixed their first single "Show Me". Dan Brodbeck, of EMAC studios in London, Ontario, mixed their other singles "Anodyne" and "A Daily Ritual". Dan Brodbeck is known best for working with popular bands such as The Salads, Jersey, Kittie and Dolores O'Riordan of The Cranberries.
The video for "Anodyne" by Ripped was nominated for best video in 2005 at the Hamilton Music Scene awards which take place in Hamilton, Ontario, Canada. The video was up against other notable acts such as Finger 11, Jersey and The Marble Index.
The two main songwriters of Ripped, Sandra Olender and Iain Carroll (aka Moody), are current students of Ramtha and both attend Ramtha's School of Enlightenment in Seattle, Washington.
Melissa McClelland
Born c. 1979 in Chicago, Illinois, USA) is a Canadian singer-songwriter who lived in Burlington, Ontario, Canada in her youth and now bases her career from Toronto.
McClelland's music is influenced by blues and Americana. A writer on CMJ's staff blog wrote that McClelland has "a persona reminiscent of a female Tom Waits."
Melissa McClelland was born c. 1979 in Chicago, Illinois, USA). She spent her youth in Burlington, Ontario, Canada before developing her career in Toronto. She currently lives in Hamilton, Ontario.
McClelland married Luke Doucet on June 24, 2006; the two have played together on numerous stages, including at the 2006 Calgary Folk Music Festival. He has produced three of her records, "Stranded in Suburbia", "Thumbelina's One Night Stand" and "Victoria Day".
In 2004 McClelland released "Stranded in Suburbia" on Orange Record Label. In the same year, her side-band Ladybird Sideshow released a live album entitled "Ladybird Sideshow Live at the Orange Lounge"
McClelland's follow up album, "Thumbelina's One Night Stand" was released in 2006. Reviews drew attention to the eclectic nature of the album. Exclaim! Magazine describes the album as "impossible to pin down stylistically, as it segues from roots-y rock ("Passenger 24") to country ("Taxi Ride") to chamber pop ("Solitary Life") to folk (a cover of Randy Newman's "Dayton Ohio") and blues ("Go Down Matthew")."
In 2006 McClelland opened for Matthew Good's solo acoustic tour across Canada. During the tour the two singers closed Matthew Good's set with a duet performance of the Nine Inch Nails song "Hurt".
She also works with Sarah McLachlan, providing backing vocals at her live shows. McLachlan makes a guest appearance on the song "Go Down Matthew" from McClelland's album Thumbelina's One Night Stand.
"Skyway Bridge" (off of Thumbelina's One Night Stand) features Greg Keelor from the successful Canadian band Blue Rodeo. Additionally, McClelland is the only guest artist on Blue Rodeo's 2008 live album, "[Blue Road]".
In 2007 McClelland opened a tour with Jesse Cook and sang on his recording of "It Ain't Me Babe" (a Bob Dylan cover) which was released on his 2007 album Frontiers. "It Ain't Me Babe" was released as a single from that album, which spent 3 weeks in the top position on Billboard's world music charts.
In late 2008 Melissa McClelland began work on "Victoria Day", her fourth album, and first for Six Shooter Records. Victoria Day will be released on April 14, 2009. The album was recorded at Canterbury Music by Jeremy Darby, and was produced by Luke Doucet.
"Victoria Day" has a vintage 1950's sound, combining Dixieland with "high lonesome twang".
"Seasoned Lovers", from Victoria Day, features vocals from Canadian singer-songwriter Ron Sexsmith.
Silverstein
A five-piece post-hardcore band from Burlington, Ontario, whose music is sometimes referred to as screamo, though the band, particularly Paul Koehler, rejects this label. The band name was taken from the famous children's author Shel Silverstein.
After several lineup changes, the band acquired Billy Hamilton, a local fan who learned of the band's need for a bassist on the Internet message board "The 905 Board" (an Ontario area outreach board which used to be for local musicians). In Christmas of 2001, he joined the band after Told helped him learn the music for the songs. Following a rehearsal on Boxing Day (December 26) in 2001, he officially debuted with Silverstein. The next spring, original guitarist Richard McWalter left the band to move to Victoria, British Columbia to study engineering. He was then replaced by Neil Boshart, childhood friend of Shane Told. The new line-up recorded a second EP, When the Shadows Beam, in preparation for their first tour in Eastern Canada. The band signed to Victory Records in October 2002 with a complete line-up as Hamilton attempted to complete his secondary education one semester early.
The January after, the band recorded their full-length debut CD When Broken Is Easily Fixed, released on the Victory Records label.
" Silverstein's Victory debut is a jarring mixture of emo's earnest determination, elements of hardcore, and the heaviest of heavy metal. While vocalist Shane Told delivers lines like "How can I say I love you back, you never made me happy" in a cracked, soaring singing voice, When Broken Is Easily Fixed actually begins with a ragged scream that's as arresting as his singing is plaintive. Musically, the LP is dominated by the dynamic shifts and driving melodies of emo. But Silverstein's membership was derived from existing hardcore, metal, and punk squads, and these influences are never very far from view. "Last Days of Summer" begins as a June day ends, with shuffling percussion and gently strummed guitars. But just as the fragile strains of a violin drift in, Told's growling, scarred alter ego appears behind his singing self. The song's structure breaks apart, and re-forms as a churning post-hardcore anthem driven by his scarred, screaming id. The track gives way to the scathing hardcore of "Bleeds No More," but even its furious rhythms aren't safe from Silverstein's experimental touch -- its bridge features an atmospheric interlude complete with programming and additional violin. Things get even more bipolar with "The Weak and the Wounded," on which Told's two sides duet before the track bursts through the storm clouds into a gliding chorus. But all is not well. "Love in my eyes, lust in my heart," Told sings, only to sneer finally "I made it all up. Lies, deceit empowers me." When Broken Is Easily Fixed is a rousing, cathartic record that effectively blurs the lines between emo, hardcore, and metal. It drags the listener behind the car on an emotional roller coaster that teeters on rotting wood. For your own safety, keep your hands and arms away from the stereo at all times. - Johnny Loftus, Allmusic "
In 2005 the band performed on the Never Sleep Again Tour with bands such as Aiden, Hawthorne Heights and Bayside—a tour during which Bayside's drummer John "Beatz" Holohan would be killed in a car accident. In January-February 2006, they toured with fellow Canadians Simple Plan in Europe. They then toured Canada with the Taste of Chaos Tour, and also toured Europe, Japan, and Australia.
The band toured on the 2006 Vans Warped Tour, in support of their current studio album Discovering the Waterfront and a compilation album, 18 Candles: The Early Years. The Early years compiles the band's first two self-financed EPs with some acoustic and live material as well as a remix of "Discovering The Waterfront" hit "Smile In Your Sleep". Discovering the Waterfront was re-released in September 2006 with an extra song, the band's cover of Lifetime's "Rodeo Clown" and a DVD.
In 2006, Silverstein was nominated for a Juno Award in the "Best New Band" category, but lost to Bedouin Soundclash.
In Fall 2006, they headlined the Never Shave Again Tour, along with Aiden, It Dies Today, and He Is Legend.
Told concludes the 27 February 2009 Melbourne show on the shoulders of the fans. The band's third full-length album, Arrivals And Departures, was released on July 3, 2007, and was designated by AP Magazine as one of the most eagerly anticipated CDs of 2007. Mark Trombino (Jimmy Eat World, Blink-182, Finch) produced the CD. As of early August, the CD had sold 62,000 copies.
Silverstein contributed a new acoustic version of their song "Red Light Pledge" to the Punk Goes Acoustic 2 compilation, released May 8, 2007 through Fearless Records.
Following completion of their third CD, the band played a few shows in the spring, and then engaged in an all-summer tour with Rise Against. The band toured the United States in Fall 2007 with From Autumn to Ashes and then went on a month-long European tour with Blessthefall.
Following tours of Australia and Japan in January 2008, the band played their first "Cross-Canada" headlining tour with Protest the Hero, Ill Scarlett and The Devil Wears Prada, which sold out across the country. They recently completed a U.S. tour with A Day to Remember, Protest the Hero and The Devil Wears Prada. Protest the Hero dropped off the Tour and Pierce the Veil took over for them on a few show dates. After heavy touring for their album, Arrivals and Departures, in Canada, the US, the UK, and other areas in Europe during late 2007 and early 2008, which included the band's 1000th show in Paris, France, the band took the summer off. In a news post on their site, Silverstein's Paul Koehler said the band was "taking a bit of downtown time to write a new album!"
In October and November 2008, the band toured the United States (with a final show in Toronto) with Chiodos, Escape The Fate, Alesana, and A Skylit Drive, during which they performed the newly-written song "Broken Stars", also made available as a demo on their Myspace page. They band played a South American tour in February followed by one show in Hawaii and festival dates in Australia.
On December 14, 2008, the band announced by Myspace bulletin that its fourth CD would hit stores on March 31, 2009. The name of the new CD, A Shipwreck in the Sand, was announced on January 29, 2009, when the band concluded a viral marketing campaign by revealing the track listing at the album website. A demo version of one song, "Broken Stars" from the new CD had been put on the band's Myspace in late 2008 and played during their final U.S. tour in support of "Arrivals and Departures". A clip of a second song, "Vices", was also made available on Myspace, as occurred with the songs "Born Dead" and "American Dream." On March 17, the band filmed a music video for "Vices" with director Robby Starbuck. Later, on March 23, 2009, the band posted the full album to stream on their official MySpace page.
An iTunes bonus track version of the album includes four cover songs, Help (The Beatles cover), Go Your Own Way (Fleetwood Mac Cover), Three Miles Down (Saves The Day cover), and Total Bummer (NOFX cover).
Silverstein contributed to Punk Goes Pop 2 by making a cover of "Apologize" by OneRepublic.
After three shows in Ontario, the band embarked on a U.S. tour with Norma Jean, Before Their Eyes, and blessthefall. The band has announced several European dates for May 2009.
Spoons
A Canadian New Wave-new romantic synth pop music group who formed in 1979 and were popular in the early 1980s. In 1983, they won Group of the Year at the U-Know awards. Their most popular songs include "Romantic Traffic", "Nova Heart", "Old Emotions" and "Tell No Lies".
Spoons were formed in Burlington, Ontario in 1979. The band initially consisted of Gordon Deppe (lead vocals and guitar), Sandy Horne (vocals and bass), Brett Wickens (keyboards, synths) and Peter Shepherd (drums). All four attended Aldershot High School, and Deppe and Horne (the only constant members of the band) were high school sweethearts.
In late 1979, Shepherd left the band and was replaced by Derrick Ross on drums. Spoons then released an independent single, "After the Institution", in 1980. Shortly thereafter, Wickens left the band, to pursue a career as a graphic artist. He was replaced by keyboardist Rob Preuss, who was only fifteen when he joined Spoons.
The band's first album, Stick Figure Neighbourhood, was released in 1981, and is notable for being one of the earliest New Wave albums engineered by Daniel Lanois.
The following year, Spoons released their breakthrough album Arias & Symphonies. This album spawned three Top 40 hits in Canada: "Nova Heart", "Arias & Symphonies", and "Smiling in Winter". All were dance-oriented New Wave hits.
Around this time, Spoons' higher profile allowed them to become the opening act for bands such as Culture Club, Simple Minds, and The Police.
Spoons' 1983 album, Talkback was produced by Nile Rodgers and included the hit "Old Emotions". Following that, the band expanded their sound somewhat, releasing a two-sided hit in 1984 with "Tell No Lies" b/w "Romantic Traffic". The upbeat "Tell No Lies" featured a more mainstream pop sound than was customary for Spoons, while "Romantic Traffic" was a down tempo song with adult contemporary leanings that would become the group's most enduring hit.
Both "Tell No Lies" and "Romantic Traffic" later found their way onto the soundtrack for the film Listen to the City, in which Horne was featured in a supporting role. However, Listen to the City was not an official Spoons album, as it consisted largely of instrumental music and was credited solely to Gordon Deppe.
In 1985 both Preuss and Ross left Spoons, and were replaced by Scott MacDonald (keyboards) and Steve Kendry (drums), respectively. The band also switched from New Wave imprint Ready Records, which had folded after the release of Listen to the City, to the more rock-oriented Anthem Records label. Accordingly, Spoons' 1986 single "Bridges Over Borders" marked a departure from their characteristic sound and showcased a harder rock orientation, as did later single "Rodeo".
The new Spoons line-up released the album Bridges Over Borders in 1986, but it did not chart in the Canadian Top 100, nor did any of the three singles pulled from the LP. The follow-up LP Vertigo Tango reunited the band with Arias & Symphonies producer John Punter, and was a partial return to the band's New Wave roots. The album featured the band's final hit single, "Waterline" (1989), a languid, introspective ballad.
Spoons broke up at the end of the 1980s, but Deppe and Horne, along with various other players, reunited for several Spoons reunion gigs in the 1990s and into the next decade. In 2007, Spoons released Unexpected Guest at a Cancelled Party, a collection of previously unreleased material recorded between 1982 and 1985 by the Deppe, Horne, Preuss, Ross line-up.
At present, Gordon Deppe is an 80s music programmer for Galaxie, and he has a new pop rock trio called Five Star Fall.
Sandy Horne now performs and tours with Coast Tsimshian Singer/Songwriter, Storyteller, Recording Artist, Shannon Thunderbird, a First Nations Artist originally from Northern British Columbia.
Rob Preuss went on to play with Honeymoon Suite on their Racing After Midnight album. He is currently the Associate Musical Director for Mamma Mia! at the Wintergarden Theater in New York City.
Brett Wickens stayed involved in music, collaborating with Andy McCluskey of OMD, amongst others, but is probably most well-known for his design work with Peter Saville Associates.
Derek Ross was working with a subsidiary record label owned by EMI Music Canada
Tebey born Tebey Solomon Ottoh
A Canadian country music singer and multi-genre songwriter. To date, he has composed several singles for other artists, in addition to releasing singles of his own. His only chart hit to date is 2003's "We Shook Hands (Man to Man)", a #47 hit on the Billboard Hot Country Songs charts and a Top 5 single on the Canadian country music charts.
He started singing in church at the age of five, spreading his wings to sing at local events. In 1990 and again in 1994, he won the 14-and-under male division of the Canadian Open Country Singing Contest, and in 1996 and 1998, the 18-and-under male division. At 15, he signed a development deal with a major Nashville record label and moved to that city with his father, a Nigerian-born electronics engineer, with his mother and siblings staying back at their family home in Burlington, Ontario.
After two years with very little movement, they returned to Burlington. Ottoh's success in high school football there drew the attention of American college recruiters, but his Nashville career took a belated turn as a friend successfully talked him up in the industry. Ottoh was signed to BNA Records as a singer and Warner Chappel Music as a staff songwriter, and signed fellow Canadian Bruce Allen as his manager.
Allen put Ottoh together with a fellow client, record producer Bob Rock. Working towards his first album, Ottoh both wrote for himself and collaborated with songwriters Annie Roboff, Bob DiPiero, Jim Collins, Naoise Sheridan and Rory Bourke.
In 2002 and 2003, as Tebey, his performance of "We Shook Hands (Man to Man)" became a charted country radio hit in the United States and Canada. Tebey was the subject of a segment on CBC Radio's Sounds Like Canada, and nominated for a 2004 Canadian Radio Music Award for Best New Group or Solo Artist (Country), against Damian Marshall, Deric Ruttan, Heather Dawn and Jason Blaine.
Returning to Canada, Ottoh became a professional songwriter in popular music outside of country. Artists for whom he has written include Sony BMG recording artist Rex Goudie (including co-writing the #1 Hot AC single "Run"), Shawn Desman (including co-writing his #1 pop/r&b single "Let's Go"), 2006 Canadian Idol winner Melissa O'Neil, Open Road/Universal country Tara Oram and On Ramp/EMI artist Brad Johner. Tebey also has a co-penned song on Big & Rich's million selling album Between Raising Hell and Amazing Grace" platinum.
In 2007 Tebey signed a worldwide co-publishing deal with Ole Media Management. He subsequently then moved to Nashville, Tennessee where he currently resides. In 2008 Tebey has found himself traveling quite frequently to Stockholm Sweden, and Los Angeles to write for projects outside of the country music genre. His recent co-writers include production team The Runners (Chris Brown/Danity Kane), Fancci Richard (Jojo, Keysha Cole), Location Songs (Celine Dion, Westlife, Lindsay Lohan), Kristian Lundin (Backstreet Boys, Celine Dion, NSYNC) & Lonny Bereal (Beyonce, Jamie Foxx).
The Creepshow
A band from Burlington, Ontario, Canada. The band formed in 2005 when the four members got together with the purpose of starting a hillbilly band. The Creepshow writes the majority of their songs about horror films, with the music fitting the horror punk genre - hence hellbilly.
The band has its roots in the 905 music scene with most members having been in various garage bands before The Creepshow. McNab was the singer/guitarist for local legends Outspan and Jersey. McGinty was the songwriter and trombonist for 905 ska band two-face and played trombone in Outspan as well. Matt "Palmade" Gee splits his time between The Creepshow and punk band Rehab for Quitters for which he also plays drums.
The Creepshow is known for their fast-paced songs filled with lots of backup vocals from McNab and McGinty and sing-along that the whole crowd can participate in. The band is also known for their live shows.
After initially recording two songs for the Zombie Night in Canada Vol. 2, Stereo Dynamite founder Adam (DOOM) Sewell signed the band after hearing the band's demo in 2005. The band released their first album Sell Your Soul on Stereo Dynamite shortly after on May 2, 2006.
On Monday, March 27, 2006, Stereo Dynamite signed an exclusive distribution deal with EMI Music Canada greatly increasing the label and bands distribution.
After Hellcat became pregnant, the vocals and guitar duties were taken over by Hellcat's younger sister, Sarah "Sin" on a temporary basis, and then permanently. Hellcat made her final appearance with the band in their video for "The Garden".
On August 22, 2008, the band released their second album, Run For Your Life. The band once again recorded with Sell Your Soul recorder/producer Steve Rizun. The album was released by Stomp Records.
The band has completed several tours across Canada, as well as two European tours. The band continues to tour with Sarah as the lead vocalist. The band recently finished a tour with The Unseen and Tiger Army the last show taking place May 11th in Ottawa, ON.
On August 23, 2008, the band joined Anti Flag on a Canadian Tour after which they made their way back to Europe in October in support of their new album.
The Creepshow played the Warped Tour in 2008 on the D-Tox/Union stage in Montreal.
The band will be touring North America and Europe in early 2009.
Saint Alvia, formerly The Saint Alvia Cartel
A band from Burlington, Ontario. Saint Alvia formed in 2005 by Rob Pasalic (formerly of Boys Night Out) and Greg Taylor (formerly of Jersey). Pasalic had sworn off music after Boys Night Out, but he explained, "It's funny really, some abusive addictions you just can't kick" According to Pasalic, the band is named after Ernest Alvia Smith, Canada's last living recipient of the Victoria Cross for valor in WWII.
Although their roots are firmly planted in punk rock, the band also draws inspiration from genres as diverse as roots, rock and roll, blues, soul, dancehall reggae, country, new wave and hip hop. After recording and releasing a couple demo tracks via MySpace in 2006, they were picked up by Montreal's Stomp Records, who released their self-titled debut in May. The lead single "Don't Wanna Wait Forever" was released in the summer of 2007.
The band followed the 2007 release with 2008's critically acclaimed "Between The Lines".
Michael Broomhead
Born March 11, 1986 is a British/Canadian racing driver, currently driving in Ontario Formula Ford Championship. Michael lives in Burlington, Ontario.
After moving to Canada at age 12, Michael looked into karting around his home city of Burlington, Ontario. He found an indoor kart track and began to race in their league. The track closed down after just 2 seasons and Michael was left to find elsewhere to race. Michael purchased a 1994 Coyote from a Formula Ford driver and began racing in Hamilton.
In his first full season of competition, Michael made his mark by finishing 3rd in points with 6 top 5 finishes and earning "Rookie of the Year" in the Junior Teen Class. He also drove a Rotax 125cc Kart in the off season.
The following season, Michael jumped to the Senior Light Class. The entire season, Michael finished in the top 5 in every race, winning 6 races in total and earning "Sportsman of the Year". Michael also made heads turn on a National level when he competed in the National OKRA Series in Hamilton. He took his now 9 year old, discontinued go-kart from 30th to 10th in 15 laps, showing no matter what equipment he is given, he has the skills as a driver to succeed at the next level.
For 2004, Michael turned to the new World Formula Class. Although there were many mechanical issues during the season, Michael still managed to finish well. He caught the eye of then Team Hurricane boss, Andre Champagne part way through the season and was set to drive the rest of the Rotax Max Senior season with Team Hurricane. For his first race in Rotax, he qualified on the pole, adapting to his new surroundings almost instantly. Although Michael switched half way through the year, he still finished 5th in World Formula points and Finished 10th in the Senior Rotax standings.
2005 and 2006 weren't very busy years for Michael. He competed in a few races but major mechanical issues forced him to the sidelines. Michael turned his focus to cars in 06 and started trying to find sponsorship.
In 2007, Michael's racing career kick started with a test drive in the Britain West Formula Ford. He proved he had speed from his first time in the car, impressing team owner Dave Clubine. Michael then took the race license course at the Bridgestone Racing Academy gaining his license to compete in Formula Ford. Michael competed in the Canadian Grand Prix weekend finishing 6th out of 38 entries on his car racing debut. In September, Michael raced at Mosport International Raceway coming 5th and 6th on the double header weekend.
2008 was cut shot due to lack of funds. He showed a lot of pace in practice and qualifying but due to a few did not finishes' he wasn't able come away with the results he deserved. He did however manage to continue his 100% top 10 finishing record (not counting did not finish).
Hopefully in 2009, Michael can find the funds he needs and go for a championship. He is currently looking at numerous series' and will once again compete based on sponsorship.
Adam Creighton
Born June 2, 1965 in Burlington, Ontario is a retired former professional ice hockey player who played 708 career National Hockey League games after winning the Memorial Cup in 1984 as a member of the Ottawa 67's. He played professionally for the Buffalo Sabres, Chicago Blackhawks, New York Islanders, Tampa Bay Lightning and St. Louis Blues.
In Chicago Adam played under Mike Keenan. Keenan is a dictatorial coach who has broken many players, but Adam thrived under him. In his first full season in Chicago, 1990-91, Adam erupted for his best season. He scored 34 goals and 70 points. His new found success was in large part because he embraced the physical game, picking up 224 penalty minutes. Although his offensive production tailed off in the playoffs, he remained as a physical force as the Blackhawks went to the Stanley Cup finals.
Creighton came back to earth somewhat in 1990-91, as he continued to struggle with the one thing that prevented him from being a very good player in the National Hockey League consistency. The Hawks moved Adam to the New York Islanders late in the 1991-92 season in a trade for Brent Sutter.
Adam's stay on Long Island was brief. He finished the year with 12 points in 11 games, but was exposed on waivers prior to the 1992-93 season. The Tampa Bay Lightning selected him and employed him with little fanfare through 1994.
Adam returned from anonymity when he was reunited with Mike Keenan in St. Louis staring in 1995, but he became a low scoring role player at that point of his career. Adam would end his National Hockey League career with a return to Chicago for the 1996-97 season but appear in only 19 games. He would later round out his career playing in Germany. Adam Creighton scored 187 goals and 403 points in 708 National Hockey League games. Now retired as a player, Creighton serves as a scout for the Boston Bruins organization.
Christopher "Chris" Schultz
Born February 16, 1960 in Burlington, Ontario is a retired National Football League and Canadian Football League player who played the offensive tackle position primarily with the CFL Toronto Argonauts. Schultz is currently a sports caster with Canadian sports television channel Television Sports Network (TSN).
After attending Aldershot High School in Burlington, Ontario, Schultz played college football in the United States at the University of Arizona. Schultz played offensive tackle in his senior year for the Wildcats.
Following college, Schultz was drafted in the seventh round of the 1983 NFL Draft by the Dallas Cowboys. Schultz played with the Cowboys from 1983 to 1985.
Schultz returned to Canada to play for the Canadian Football League Toronto Argonauts in 1986. He played in 124 games for the Argos over his nine-year career with the club. Schultz was named a Canadian Football League All-Star twice (1987, 1988) and was a member of the Argos' 1991 Grey Cup championship team. In 2007, he was named to the Argo's all time team.
To say Chris Schultz had seen it all as a football player would be an understatement. Not many players, especially Canadians growing up in southern Ontario, could say they had a chance to play United States college football at a major university (Arizona), for Tom Landry as a member of "America's team" in the National Football League (Dallas Cowboys), and as a member of the Canadian Football League's most storied franchise, the Toronto Argonauts.
Not only did the Burlington native Schultz excel at his offensive lineman position, but he also overcame numerous injuries that would have slowed down lesser men. When it came to knee operations, Bobby Orr had nothing on this guy.
"When you include college, I had 17 training camps," said Schultz, looking back with pride and a touch of amusement. "Man, that's over a year in training camps!" Anyone who has suffered through "two-a-days" knows this would not be a pleasurable experience, nor would lining up opposite the 6-foot-8, 290-pound giant on the line of scrimmage.
"One of the nicknames they stuck on me was Sybil, after the character that had multiple personalities," said Schultz, whose intensity on the field contrasted with his easy-going, friendly nature off it. "(Former slot back) Andrew Murray gave it to me, and then the coaches even picked up on it for a year."
While the two-time all-Canadian had many memorable moments as an Argo, including the 1991 Grey Cup win, his favourite surprisingly came during a heartbreaking loss. "The fondest memory I have was the 1987 Grey Cup (a 38-36 loss to Edmonton), because nobody expected us to be there," said Schultz.
During his playing days, Schultz was very active in the off-season representing the Argonauts as a member of their charity basketball team and at other worthy cause functions, a schedule that has continued into his retirement. When he is not busy organizing golf tournaments for the Children's Wish Foundation or overseeing courses in leasing at McMaster University, Schultz can be heard on local radio station THE FAN 590 as a part-time football commentator on their weekly "Football Sunday.
Chad Wiseman
Born March 25, 1981 in Burlington, Ontario is a Canadian ice hockey left winger who currently plays for EHC Wolfsburg in the German Elite League.
Wiseman was drafted 246th overall by the San Jose Sharks in the 2000 National Hockey League Entry Draft. Wiseman has played nine National Hockey League games in his career, scoring one goal and one assist for two points.
He started his National Hockey League career in the 2002–2003 season with the San Jose Sharks, appearing in 4 games. On August 12, 2003, the Sharks traded Wiseman to the New York Rangers for Nils Ekman. Wiseman played one game in the 2003–2004 season, scoring one goal. After the National Hockey League Lockout, he played 4 games last season (05–06), recording one assist. He also appeared in his first career playoff game in the 1st Round for New York. At the end of the season, Wiseman became an Unrestricted Free Agent and signed with the Washington Capitals on July 14, 2006. He's now playing on the Hershey Bears of the American Hockey League. He is also part owner of the Landmark Steakhouse restaurant located in Downtown Burlington, Ontario.
Melanie Booth
Born September 5th 1985 in Burlington, Ontario is a defender for the Canadian women's national soccer team. As of August 30, 2007, Booth has played a total of 32 times for Canada, scoring 1 goal. Booth also played on the University of Florida soccer team from 2003 to 2005, before sitting out the 2006 season due to national team commitments, and will resume play in the 2007 season.
Karl Dominik
A Western Chinese speaking actor based in China. Originally from Poland he studied acting in Canada in 1996, and started his acting career in China in 2006.
Born in Lodz, Poland Karl lived in a slew of places (in order): London, England, Burlington, Ontario, Canada, New York, USA, Toronto, Canada, Sydney, Australia, Tsukuba, Japan, Tokyo, Japan, Los Angeles, USA and finally Shanghai, China. During his first stay in Canada he also became a Canadian citizen.
He studied film and television acting at the Toronto Television Actors Academy, but after completing his course decided he needed to get a "real job" so he pursued his career in his next favourite area - Information Technology. Everything from computer hardware, programming, web pages, graphic design were all included. This eventually developed into doing Information Technology Consulting then to Business Consulting - including business process reengineering and business development.
He has this to say about living in Los Angeles and acting:
"When I lived in Los Angeles I never considered doing acting there as I considered it a "saturated market" from a business perspective. As a business consultant I would never never recommend a business to attempt break into a saturated market, at least not without some sort of niche, which is the environment in Los Angeles for acting. Furthermore, a great portion of my staff were also all aspiring actors!"
Jillian Reynolds
Born September 26, 1966 best known by her former name Jillian Barberie, is a Canadian-American actress, television hostess, and sports caster. She can be seen on the Los Angeles-based morning show Good Day L.A.. She is also working for FOX Sports primarily, as the weather girl on FOX NFL Sunday since the 2000 NFL season except for the 2006 season.
Reynolds was born Jillian Warry in Burlington, Ontario. She is a graduate of Mohawk College (Hamilton), with a diploma from their two-year program in broadcast journalism. After completing her diploma, she worked for a variety of television stations, including The Weather Network in Montreal, WSVN in Miami and KTTV in Los Angeles (WSVN and KTTV are Fox affiliates).
Reynolds' screen presence has earned her roles on several television dramas including Clueless, V.I.P. and Melrose Place, as well as comedic turns on the popular sitcom Yes, Dear and the sketch comedy series MADtv. She hosted the TV show EX-treme Dating. In 2000, she was hired to present the national weather segment of Fox Sports FOX NFL Sunday pregame show, working opposite Curt Menefee, Howie Long and Terry Bradshaw. As a result of her scratchy gravel-laced voice, non-specific ethnic look, and affable on-camera personality, Reynolds became a national figure and earned significant fan interest in the male-dominated sports demographic highly valued by the financial, automotive, construction, and alcohol/food industries. One of the reasons she was hired to do several spots for Prestone antifreeze that aired during NFL game broadcasts was because of her recognition factor amongst males 18-54, one of the most sought-after demographics in the advertising industry; her voice was recognizable whether the viewer was watching the screen or not.
In addition to Reynolds' work on Good Day L.A., she worked on the national version of the show Good Day Live. However, she was ultimately fired from that show, ending her tenure there on June 4, 2004. Reynolds claims that she does not know why she was let go from the national program.
She served as the weather girl and entertainment reporter for FOX Sports during the 2002 Super Bowl, 2005 Super Bowl, and the 2008 Super Bowl. In 2005, she was Regis Philbin's co-host for his New Year's Eve special on FOX. She was also among a long list of possible candidates to succeed Philbin's former partner Kathie Lee Gifford on Philbin's popular syndicated Live with Regis and Kathie Lee show (Kelly Ripa was eventually chosen). She appeared in Maxim magazine twice, making the cover in September 2003. In 2006, Reynolds participated as a contestant on the FOX reality television show Skating with Celebrities, partnered with professional skater John Zimmerman and came in second place. She was an ice skater in her childhood. As of November 2006, she is the co-host of KTTV's That's So Hollywood with fellow KTTV/KCOP personality, Mark Thompson. As of August 2008, Reynolds appears in NutriSystem commercials with former NFL players Dan Marino and Mike Golic, testifying how much weight they have lost. She claims to have lost over forty pounds after the birth of her daughter.
Reynolds was once married (1996 - 2002) to former Major League Baseball player Bret Barberie, whose surname she kept until her marriage to actor Grant Reynolds in a private ceremony on July 8, 2006. She initially stated that she was legally changing her name to Jillian Reynolds, but keeping Barberie as her professional surname. However, she has since chosen to use Reynolds as her surname on Fox NFL Sunday but still retains Barberie for her NutriSystem commercials.
Reynolds works for the prevention of cruelty to animals and has nine pets of her own - all of whom she has adopted from shelters. She has often said that she believes her "adoptive" nature is due to the fact that she herself was adopted.
In December 2006, People magazine said Reynolds was pregnant with her first child, due July 7. She officially announced her pregnancy the morning of December 18, 2006, during the broadcast of Good Day L.A. Reynolds took a three month hiatus from the show beginning June 22, 2007. On July 9, an announcement on Good Day L.A. stated that she had given birth to a baby girl, Ruby Raven Reynolds, on July 6, 2007 at 5 p.m. The baby weighed 6 lbs. and 12 oz By naming the baby Ruby Raven, the couple used two of the three names they had agreed-upon as candidates.
James Eugene Carrey
Born January 17, 1962 best known as Jim Carrey, is a BAFTA-nominated and two-time Golden Globe Award-winning Canadian-American actor and stand-up comedian. He is probably best known for his manic and slapstick performances in comedy films such as Dumb and Dumber, The Mask, Liar Liar, Bruce Almighty, and Yes Man. Carrey has also achieved critical success in dramatic roles in films such as The Truman Show, Man on the Moon, and Eternal Sunshine of the Spotless Mind.
Carrey was born in Newmarket, Ontario, the son of Kathleen (née Oram), a homemaker, and Percy Carrey, a musician and accountant. He has three older siblings, John, Patricia, and Rita. The family was Catholic and of part French Canadian ancestry (as the original surname was Carré). After his family moved to Scarborough, Ontario when Carrey was 14-years-old, he attended Blessed Trinity Catholic School, in North York, for two years, enrolled at Agincourt Collegiate Institute for another year, then briefly attended Northview Heights Secondary School, for the remainder of his high school career (altogether, he spent three years in Grade 10).
Carrey lived in Burlington, Ontario, for eight years and attended Aldershot High School. In a Hamilton Spectator interview (February 2007), Carrey remarked, "If my career in show business hadn't panned out I would probably be working today in Hamilton, Ontario at the Dofasco steel mill." When looking across the Burlington Bay toward Hamilton, he could see the mills and thought, "those were where the great jobs were." He already had experience working in a science testing facility in Richmond Hill, Ontario, and was somewhat resigned to that career path.
Torri Higginson
Born 6 December 1969 is a Canadian actress. She was born in Burlington, Ontario, Canada, and is most well-known for her roles in the Tek War movies and series, The English Patient and Stargate Atlantis. She is also a theatre actress and has appeared in Three Tall Women, Weldon Rising and Picasso at the Lapin Agile.
Higginson took over the role of Dr. Elizabeth Weir from Jessica Steen in a guest spot on the season eight opener of Stargate SG-1. She was then carried over as the leader of the Atlantis expedition on Stargate Atlantis and continued playing that role till the end of the show's third season, afterwards being reduced from a main cast member to a recurring role in the fourth season. She did not reprise the role for the show's fifth season.
Higginson was once linked romantically to Paul Raven of the band Killing Joke and also (at a different time) to John Kastner of the Canadian rock band Doughboys. Her younger brother Luke is lead singer of the Toronto band Debaser.
In 1995, two years prior to Stargate SG-1's premiere, Higginson starred in the 1995 movie Jungleground with three other actors from the Stargate franchise: Peter Williams (Apophis), JR Bourne (Martouf), and Lexa Doig (Dr. Lam).
Lynn Shawcroft
A Canadian stand-up comedienne. She is a member of the touring group The Unbookables, and is the wife of comedian Mitch Hedberg.
Shawcroft was born in Burlington, Ontario. She met Hedberg at a New Faces comedy showcase in 1996 and they were married on February 25, 1999.
Paula Todd (born 1959)
A Canadian journalist, lawyer and author, currently an investigative reporter for W-FIVE. She was the founding host of "The Verdict with Paula Todd" the nightly, live, prime-time legal and justice affairs program on CTV Newsnet. Prior to joining CTV News in 2007, Todd was the host and co-producer of TV Ontario's interview program Person 2 Person with Paula Todd. She previously co-hosted the nightly, Gemini-award-winning newsmagazine Studio 2 with Steve Paikin for 10 years before that show was cancelled in June 2006. Todd has written for numerous publications, including The Globe and Mail, the Toronto Star, Elm Street Magazine, Canadian Living, and The Law Times.
Todd entered public broadcasting after more than a dozen years at Canada's largest newspaper, the Toronto Star, where she worked as a reporter, feature writer and Queen's Park political correspondent. Throughout her last four years at the Toronto Star, she served as an editorial writer and a member of the newspaper's editorial board.
Todd served as a judge for the National Newspaper Awards, the Advancing Canadian Entrepreneurship (ACE) Awards and was nominated for a 'National Magazine Award' in 2003. She is the 2004 recipient of the Paramedic Association's Media Award for public education, and serves on the Board of Directors of Integra, an organization that assists children and teens with learning disabilities.
She is the author of the best-selling book A Quiet Courage: Inspiring Stories from All of Us.
A frequent contributor to radio and television before joining TVO, Paula was a regular host on CBC Newsworld's 'Face Off', appeared as a frequent Global TV and CBC panellist, and also as a political analyst for CBC Radio in Toronto and Ottawa. Paula earned her B.A. in English literature from York University (where she served as co-editor of the University's student newspaper Excalibur), her LL.B. from York University's Osgoode Hall Law School.
She is married to Doug Grant, the Director of Current Affairs and Weekly Programming for CBC TV and Newsworld
We know Burlington has many notable residents born in Burlington
If you know of one that should be on our Famous Resident page
for Burlington Contact Us we'll be pleased to add them
Our parent company ProRank builds and designs creative appealing websites. Alluring websites
where visitors are intrigued by the unique design enhancing your companies products. ProRank
websites increase your visitor traffic by keeping your business at the top of the search engines.
contact ProRank