Famous Residents Whitby
Adam Foote
Born July 10, 1971 is a Canadian professional ice hockey defenceman playing for the Colorado Avalanche of the National Hockey League.
Foote grew up playing hockey for the Brooklin-Whitby Minor Hockey Association (OMHA). He was a minor hockey teammate of former NHL'er Keith Primeau for several years leading their teams to several OMHA "AA" Championships in the early 1980s.
After a successful Midget season with Brooklin-Whitby's AA team, Foote was a 2nd round underage choice (21st overall) of the Sault Ste. Marie Greyhounds in the 1988 OHL Priority Selection.
Foote went on to play three OHL seasons with the Greyhounds - his last season for future NHL head coach Ted Nolan.
Foote was selected 22nd overall by the Quebec Nordiques in the 1989 NHL Entry Draft. He played for Quebec for four seasons until the franchise moved to Colorado (and became the Colorado Avalanche), where he played for nine seasons. He has won two Stanley Cups (1996, 2001) and a gold medal for Canada at the 2002 Winter Olympics. A physical presence, he is known for his gritty, sometimes dirty (though never intentionally injurious) play, and has occasionally been assigned to "shadow" opposing teams' premiere forwards.
On August 1, 2005, Foote signed a 3-year contract worth $13.5 million with the Columbus Blue Jackets and was immediately named an alternate captain. He became the Blue Jackets' captain in December of that year (Luke Richardson resigned the captaincy).
Foote was selected to play for Team Canada at the 2006 Olympics.
On February 26th, 2008, amid some controversy, Foote was traded from the Blue Jackets back to the Colorado Avalanche in exchange for two conditional draft picks. Later that night, he arrived in Calgary during the first period to play against the Flames. Foote managed 1 goal and 15 assists for a total of 16 points in 75 games with the Avs and Blue Jackets combined.
On June 30th 2008, Foote agreed to re-sign with the Avalanche with a two year 6-million dollar deal where he will earn 3-million in each season.
Hamar Greenwood 1st Viscount Greenwood PC, KC
(7 February 1870 – 10 September 1948) was a British politician. Greenwood was born in Whitby, Ontario in Canada and educated at the University of Toronto before migrating to England as a young man.
Greenwood was originally a Liberal and sat as a Member of Parliament for York from 1906 to 1910 and for Sunderland from 1910 to 1922. He served under David Lloyd George as Under-Secretary of State for the Home Department in 1919, as Additional Under-Secretary of State for Foreign Affairs, Additional Parliamentary Secretary to the Board of Trade and Secretary for Overseas Trade from 1919 to 1920 and as the last Chief Secretary for Ireland, with a seat in the Cabinet, from 1920 to 1922. He was made a Privy Councillor in 1920.
As Chief Secretary he was closely identified with the aggressive use of two specially formed paramilitary forces — the Black and Tans and the Auxiliaries — during the Irish War of Independence. After the burning of the centre of the city of Cork by British auxiliary forces in December 1920 Greenwood blamed the "Sinn Féin rebels" and the people of Cork for burning their own city.
He lost his seat in the 1922 general election.
At the 1924 general election, Greenwood was one of a small number of Liberals, including Winston Churchill, to stand as Constitutionalist candidates. These Liberals advocated closer ties between Liberals and Conservatives. Greenwood's candidature in Walthamstow East was supported by the local Conservative association but not by the local Liberals who had their own candidate.
After the elections when it appeared that there was no prospect of formal closer ties between the two parties, Greenwood took the Conservative whip. However, he never held office again.
Greenwood had been created a Baronet, of Holbourne in the County of London, in 1915, and in 1929 he was raised to the peerage as Baron Greenwood, of Llanbister in the County of Radnor. In 1937 he was further honoured when he was created Viscount Greenwood, of Holbourne in the County of London. He was president of the British Iron and Steel Federation from 1938 to 1939.
He was chairman of the Pilgrims Society from 1945 till 1948, and president in 1948.
His wife, Margery, Viscountess Greenwood (née Spencer), was knighted as Dame Commander of the Order of the British Empire in 1922. Their son, David Henry Hamar Greenwood, succeeded his father as the 2nd Viscount Greenwood.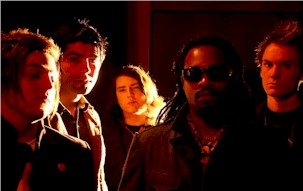 Hello Beautiful
Is an alternative/hip hop/rock fusion band from Whitby, Ontario, Canada. They are known primarily for their hybrid sound of punk, rock, hip hop and jazz.
Drummer Kevin Walsh and vocalist/guitarist Cole Martin had been playing together in a few different punk bands for about 8 years before deciding they needed a new scene, and style. Splitting with that band, they then joined up with Buddy Taylor who played guitar. Feeling the need for more depth and a more powerful sound, they then enlisted a local bass player named Dan Bradimore. Cole was friends with a local kid who, at that time, joined up as the MC, to bring a version of Hip Hop to the band. After getting a full band together, and consequently playing a few gigs together, they decided it was time to start on an album. Unfortunately, when the time came to record the album, the MC had creative differences, as well as conflict with management. This led to his eventual dismissal from the band. Instead of changing the dynamic of the band, the remaining four members decided to search for a new MC. An internet call was put out and eventually, a young talented MC was found, his name was Charlie Royal. Charlie had met Cole countless times, as they were both regulars in the local gigging-from-bar-to-bar circuit. Charlie fit into the chemistry right from the very first jam session, and they invited him to join almost immediately. Most of the song lyrics for the album had already been written, but Charlie didn't believe in singing someone else's lyrics - not to mention he saw them as inferior to his own particular brand of venom. So, in a matter of weeks, the lyrics were all re-written and the band was finally on their way to completing their debut EP. They attracted the interest and help of a passionate individual, Hugh Waddell, who believed immensely in the talent and potential of the band. He eventually became their investor/manager, and continues to do so. The addition of Charlie, the new cohesiveness of the band, and the new vibe of the songs on the EP gave the group an even bigger following - in their area as well as regionally. Many opening slots for bigger artists, such as Hedley, iLL Scarlett, Thornley, Hot Hot Heat, etc, became theirs along the way too. The Hello Beautiful EP also afforded them the good fortune, and good luck, of being awarded a spot on the 13th Annual Vans Warped Tour in 2007. In their short existence, they have also won many accolades and awards, some of which are; 2006 Durham Bandwarz Champs, Toronto Indie Week 2007 Champs - by beating out 53 international bands, and Rock Album of the Year at the 2007 DRMS Music Awards.
In late April 2007, Hello Beautiful recorded their full-length debut, Soundtrack for Scenario, with the help of Canadian music industry veteran, Murray Daigle.
The album was subsequently released a year later under Bent Penny Records/Fontana North.
The video for "Virginia Symphony", the first single, went into heavy rotation on MuchMusic and peaked at second place on Much On Demand's Daily Top 10.
Their second video will be for "Saint Andrew's Bridge".
Cole Kidd (rhythm guitar / lead vocals) Charlie Royal (lead vocals) Dan Bradimore (bass / backing vocals) Buddy Taylor (lead guitar) Kevin Walsh (drums / backing vocals)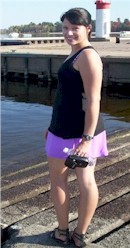 Andrea Muizelaar
Born February 10, 1987) is a former Canadian fashion model. Muizelaar was the first winner of the reality TV show Canada's Next Top Model.
Before winning the competition, Muizelaar worked as a cashier in her hometown of Whitby, Ontario, and attended George Brown College in Toronto, Ontario for Hotel Management.
In the beginning of the cycle one, Muizelaar was a shy girl, but later on in the competition, the judges saw that she grew into a confident woman. During her makeover, her hair was cut short, and dyed red. During the show, questions were raised about Muizelaar possibly suffering from a eating disorder. Despite this, Muizelaar never appeared in the bottom two, and became Canada's Next Top Model, winning a modeling contract with Sutherland Models in Toronto, Canada, an editorial spread in FASHION Magazine, and $100,000 beauty contract with Procter & Gamble. Andrea thanked Tricia Helfer and the judges, which included Jay Manuel, for choosing her, and said to them "I'm gonna make you guys so proud. Honest to God."
Muizelaar appeared on the cover of Canadian wedding magazine SPOSA, which also included a spread. She appeared in Cover Girl campaign ads. Also did a publicity mall tour, after the CNTM finale, mostly at Sears stores, but four months after the winning, Muizelaar announced she was leaving the modeling world.
Muizelaar decided to walk away from the fashion industry soon after winning the reality television competition, initially saying that modeling was "not the best thing out there". It was eventually revealed that it was due to her struggles with anorexia, noting that there was pressure to remain skinny, as she was often told "how good [she] looked at my skinniest". Ever since leaving modeling, she started to gain back the weight she lost during her eating disorder days. Additionally, although she initially stated that she booked most of the jobs she went for, she then stated that winning the show actually brought her few opportunities, and also noted that the winnings were subject to income tax.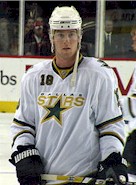 James Neal
Born September 3, 1987 in Whitby, Ontario) is a professional ice hockey forward currently playing for the Dallas Stars of the National Hockey League (NHL).
James was selected in the 3rd Round (80th overall) of the 2003 OHL Priority Selection by the Plymouth Whalers. He was selected in the 2nd Round (33rd overall) 2005 NHL Entry Draft by the Dallas Stars. His younger brother Michael is also in the Stars organization.
Neal was invited to Team Canada's summer evaluation camp in 2006. His physical presence and hard hitting impressed the coaches, and he was brought back for the December camp. He made his case, laying out a number of huge hits, even taking out one of the potential players. His play earned him a spot in the 2007 World Junior Ice Hockey Championships in Sweden, where he earned the gold medal.
Neal signed with the Dallas Stars in October of 2006. He was selected to the OHL Western Conference All-Star team and scored a goal. He also helped Plymouth win the OHL title and led all scorers with 5 goals in the Memorial Cup final in Vancouver.
Neal played a big part in the winning of Dallas Stars Traverse City Prospects title tournament, Neal led the tournament in points with 9, and wore the alternate captain's "A".
Neal scored his first career NHL goal in his first NHL game on October 10, 2008 in Dallas, TX against Pascal Leclaire of the Columbus Blue Jackets. His first multi point NHL game came on November 26, 2008 with a two goal effort against the Minnesota Wild. His first hat-trick came against the Toronto Maple Leafs on December 23, 2008 in an 8-2 win. His early season performance led to a nomination to the Young Stars roster for the 57th National Hockey League All-Star Game in Montreal. He also broke the Dallas Stars' franchise record for goals scored by a rookie (since re-locating from Minnesota to Dallas), surpassing Jussi Jokinen's record of 17 goals set in 2005-06, in a 10-2 rout of the New York Rangers on February 6, 2009.
Famously, Neal's first NHL fight proved to be a memorable and quick victory. On December 18, 2008 Neal was challenged to a fight by Columbus Blue Jackets' forward Derick Brassard, after Neal checked his opponent Fedor Tyutin hard into the corner of the Columbus zone in the first period. Neal obliged, and produced a gash near Brassard's left eye with a powerful right punch. Brassard quickly called the fight off, where it was later disclosed that he had dislocated his right shoulder and subsequently ended his season.
Keith Primeau
Born November 24, 1971 is a retired Canadian professional ice hockey player. He is currently an assistant coach for the Bishop Eustace Preparatory School hockey team in Pennsauken, New Jersey. He grew up in the Markham (with Brad May) and Whitby (with Adam Foote) AA minor hockey system along with his younger brother Wayne Primeau, who now plays for the Calgary Flames.
Primeau was drafted third overall in the 1990 NHL Entry Draft by the Detroit Red Wings after playing two years with the Niagara Falls Thunder of the OHL. He split his first two professional seasons with Detroit and the Adirondack Red Wings of the AHL. He set career highs in assists (42), points (73), and plus/minus (+34) in 1993–94. He made his only Stanley Cup Finals appearance while with the Red Wings in 1995, losing in a sweep to the New Jersey Devils. Primeau held out after the club signed Igor Larionov and after playing for Canada in the 1996 World Cup of Hockey, Detroit traded him along with Paul Coffey and a 1997 first round draft pick (Nikos Tselios) to the Hartford Whalers for Brendan Shanahan and Brian Glynn prior to the 1996–97 season.
Primeau became a leader with his new team when the franchise moved to North Carolina and became the Carolina Hurricanes, being named team captain in 1998–99. He missed the majority of the 1999–2000 NHL season after holding out, however, and was traded to the Philadelphia Flyers along with a 2000 fifth round draft pick (Kristofer Ottosson) for Rod Brind'Amour, Jean-Marc Pelletier and a 2000 second round draft pick (Agris Saviels) on January 23, 2000. On May 5, 2000, Primeau scored the game-winning goal in the longest game in modern NHL playoff history (five overtime periods for a total of 152 minutes and one second) against Ron Tugnutt of the Pittsburgh Penguins in Game 4 of the Eastern Conference Semi-finals. Only two games, in 1933 and 1936, were longer.
In his first full season with the Flyers, Primeau led the team in goals (34) and tied his career high in points (73) in 2000–01. Early in the following season, he was named team captain after defenceman Éric Desjardins resigned from the position. After posting nearly identical seasons statistically in 2001–02 and 2002–03, Primeau was given the task of centering a more defence-oriented line in 2003–04. He did well enough to earn a place in the 2004 NHL All-Star Game, the second of his career. In the 2004 playoffs Primeau recorded 9 goals and 7 assists for a total of 16 points; it was the best playoff year of Primeau's career and his play carried the team to within a game of the Stanley Cup Finals. In Game 6 of the Eastern Conference Finals against the Tampa Bay Lightning, Primeau scored the game-tying goal with 1:49 left in regulation. The Flyers won the game, 5–4 in overtime, sending the series back to Tampa for Game 7. The Flyers would go on to lose that game by a score of 2–1. Hockey legend Phil Esposito would later tell Primeau that "During the 04 playoffs when you and the Flyers took the Lightning to seven games, you were the most dominating player I ever saw. More than Orr, Howe, Gretzky, or anyone."
Nine games into the 2005–06 season, Primeau suffered a concussion which ended his season. As a result of ongoing post-concussion syndrome, he officially announced his retirement on September 14, 2006. On February 12, 2007, Keith Primeau was honoured before a game against the Detroit Red Wings, the team which originally drafted him. An emotional Primeau thanked the fans for welcoming him after being traded to Philadelphia.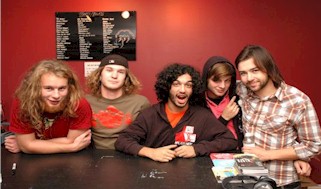 Protest the Hero
Often abbreviated as PTH or simply Protest is a Canadian hardcore-influenced progressive metal band from Whitby, Ontario. The Protest line-up has stayed the same since the band formed in 1999, when they were just 12 years old. They originally used the name Happy Go Lucky, but changed their name before releasing their first EP, A Calculated Use of Sound which was followed by the release of their first full length, Kezia, on the indie label Underground Operations. On January 23, 2006 the band officially signed with Vagrant Records for Kezia's United States release. Kezia was released in the US on April 4, 2006. Their second full length, Fortress was officially released by Underground Operations in Canada and by Vagrant Records worldwide on January 29, 2008.
The day that the band members finished their senior final tests, they went on a three-week left-slanted tour from Toronto to Halifax called "Rock the Vote" in order to gain recognition, as well as raise awareness for the upcoming Canadian election. Protest the Hero's popularity is slowly expanding outside of metal scenes in and around the cities and towns they have performed in. Now teamed up with Vagrant Records for distributional services, Protest the Hero hopes to become popular over most of Canada and, with their recent signing to Vagrant Records, the United States as well. In 2004 they won the Canadian Independent Music Award for Favourite Metal Artist/Group, beating out much more well known Alexisonfire. They were nominated for the 2006 Canadian Music Week Indie Awards' Favourite Metal Artist/Group, which Kataklysm won in March of that year. Also in 2006, the band was also nominated for the CASBY Award. In addition, members of the band appeared in a televised commercial for the instrument store, Long & Mcquade. Bassist Arif was also featured in the Closet Monster music video "Mamma Anti-Facisto (Never Surrender)"; he can be seen to the left of London Spicoluk during the main group scenes.
A music video for their song "These Colours Don't Run", from the album A Calculated Use of Sound, was released in 2003. The video begins with the band discussing the meaning of the song and features the band playing the song live at numerous locations in Toronto, Ontario, with the album music dubbed over the actual live recording. At each location, the band would hand out lyrics to passers-by and encourage them to listen or sing along. The band has also released videos for the songs "The Divine Suicide of K", "Blindfolds Aside", and "Heretics and Killers" from Kezia, and for "Bloodmeat","Palms Read" and "Sequoia Throne" from Fortress. The video for "Heretics and Killers" received airplay on MTV2 and FUSE, partially because of the interesting premise of the video: the band play the flying monkeys from The Wizard of Oz who work odd jobs after The Wicked Witch is killed . In addition, the song "Divinity Within" is featured on the NHL 07 videogame soundtrack, and "Bury the Hatchet" is featured in a download pack for Guitar Hero II on the Xbox 360. "The Dissentience" from their album Fortress is featured in the latest NHL series release, NHL 09.
Protest The Hero started officially writing music for their newest album in January, 2007. They finished recording it on August 10, as said by Rody during the 2007 Vans Warped Tour in Barrie, Ontario. The album is called Fortress and was set to be released by Vagrant Records on November 12, however the band had decided to push the release back to January 29, 2008. On April 25th 2008, Protest The Hero premiered their video for "Sequoia Throne".
They have performed and toured with many well-known acts, including Alexisonfire, Bullet For My Valentine, Against Me!, Between the Buried and Me, and many others. From September 2005 until the beginning of June, 2006, Protest the Hero toured over Canada, the United States, and Great Britain in support of Kezia with bands such as Death by Stereo, Bad Religion, Anti-Flag, The Fall of Troy, The Bled, and DragonForce. The band took part in the Vans Warped Tour during the Summer of 2006. Following this, Protest the Hero toured with Avenged Sevenfold and 3 Inches of Blood until October 2006 when they began "The Crusade" tour with Trivium, The Sword, and Cellador, taking them across Canada and the United States. In November 2006, Protest the Hero toured with Welsh metal band Bullet for My Valentine and As I Lay Dying. Beginning in the middle of December 2006, Protest The Hero embarked on a cross-Ontario tour, named the Bring Out Your Shred tour, with I Hate Sally and The Human Abstract. This tour was the first in which Kezia was played in its entirety. In late May/early June they co-headlined the Tour and Loathing 2007 Tour with co-headliners All That Remains, Blessthefall, Threat Signal, Tyler Madarasz, and The Holly Springs Disaster.
In September 2006, guitarist Luke Hoskin was detained at the Vancouver-US border for possessing a bag with less than 0.2 grams of marijuana, preventing him from continuing on their tour with Trivium and The Sword.[7] In his place the band got Marco Bressette from the Canadian rock band Hypodust from September til November 2006.
On January 28, 2008, the band began a tour through Canada with Silverstein, The Devil Wears Prada, and illScarlett. They are scheduled to start touring again in April with Chiodos and Today I Caught the Plague before joining Warped Tour 2008. The band will be on tour with Unearth, The Acacia Strain, Whitechapel, and Gwen Stacy after Warped Tour in the United States; and then will be on a European tour with Unearth, Parkway Drive, Despised Icon, Architects, Whitechapel, and Carnifex.
In January the band starts a tour with As I Lay Dying, The Human Abstract, and Mychildren Mybride. Then they will start a European Tour with The Human Abstract and The Chariot.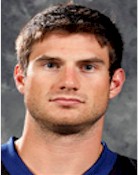 Paul Ranger
Born September 12, 1984 in Whitby Ontario he's a Canadian professional ice hockey defenceman who currently plays for the Tampa Bay Lightning of the National Hockey League.
Ranger was drafted in the 6th round, 183rd overall by the Tampa Bay Lightning in the 2002 NHL Entry Draft.

Otis Jason "O. J." Santiago
Born April 4, 1974 in Whitby, Ontario is an American football tight end who is currently a free agent. He was originally drafted by the Atlanta Falcons in the third round (70th overall) of the 1997 NFL Draft. He played college football at Kent State.
Santiago attended Kent State University from 1992 to 1996. He caught 62 passes for 730 yards for an 11.8 career average with four touchdowns during his career at Kent State. He started 22 of 33 career games at Kent State and was named to the MAC All-Academic First-Team for three straight seasons, and in 1997, he was chosen by the Atlanta Falcons in the third round (70th overall) in the NFL Draft. During his first year, he totaled 217 receiving yards in eleven games, for an average of 12.8 yards per catch. In 1998, Santiago's yardage numbers went up to 478 receiving yards in 16 games, for an average of 15.9 yards per catch. He also drew attention for a dance he created to celebrate a touchdown. The dance later became known as the "Dirty Bird".
In 2000, Santiago was traded to the Cleveland Browns, where his receiving yardage went down. After spending the 2002 season injured, he played in the 2003 season for the Oakland Raiders, where he rebounded by playing in twelve games, with 69 receiving yards, and averaging 13.8 yards per catch. Having already totaling 972 yards before joining the Raiders, he was able to reach the 1,000 yard milestone during his short tenure with the Northern California team.
In 2004, Santiago was signed by the Denver Broncos who released him at the end of Training Camp. On 23 May, 2006 Santiago resigned with the Oakland Raiders after not suiting up the 2005 season. On December 13, 2006 he signed with the New England Patriots, who released him 2 days later.
On August 7, 2007 The Oakland Raiders signed O. J. Santiago. However, he was released by the Raiders before the 2007 season began.
Kevin Duhaney
Born in Whitby, Ontario on June 2, 1984 is a Canadian rapper and actor. He is perhaps best known for his role as Ethan James, the Blue Dino Ranger, in Power Rangers: Dino Thunder.
Film
Animal 2 (2007) - Tommy
How She Move (2007) - E.C.
Four Brothers (2005) - Keenon
Crown Heights (2004) (TV)
Honey (2003/I) - Otis
Profoundly Normal (2003) (TV) - Ricky
Tru Confessions (2002) (TV) - Jake
Treed Murray (2001) - Carter
The Miracle Worker (2000) (TV) - Percy
Hendrix (2000) (TV) - Young Jimi
Down in the Delta (1998) - Justin Sinclair
Blind Faith (1998) - David Williams
Half Baked (1998) - Young Thurgood
In His Father's Shoes (1997) (TV)
Family Blessings (1996) (TV) - Judd Quincy
Johnny & Clyde (1995) (TV) - Chad
Poetic Justice (1993) - Fighting Cousin #2
Television
Power Rangers: S.P.D. History (2005) - Ethan James/Blue Dino Thunder Ranger Wormhole (2005) - Ethan James/Blue Dino Thunder Ranger
Power Rangers Dino Thunder (2004) TV Series - Ethan James/Blue Dino Thunder Ranger
Twice In a Lifetime Knockout (2001) - Young Henry
The Famous Jett Jackson New York (1999) - Stomp Kid #2
Angela Anaconda (1999) TV Series (voice) - Jimmy Jamal
Tales from the Cryptkeeper Imaginary Friend (1999) - Jamie
Mythic Warriors: Guardians of the Legend Jason and the Argonauts (1998) - Young Jason
The New Ghostwriter Mysteries Future Perfect (1997) - Malcolm The Bad Rap (1997) - Malcolm
E.N.G. The Chilling Effect (1989) - Child #1
We know Whitby has many notable residents or former residents.
If you know of one that should be on our Famous Resident page
for WhitbyContact Uswe'll gladly add them.